Democratic Super PAC Releases New Ad Hammering Kemp for Attending & Receiving $1 Million From Segregation Academies
Los Angeles, CA — Today, Democratic Super PAC Progress Action Fund announced its new ad "Brian Kemp: Right for Segregationists. Wrong for Georgia" exposing Kemp's unreported ties to segregated schools. The ad attacks Kemp for receiving over $1 million from leaders of segregated schools and "segregation academies," including his alma mater Athens Academy, and for promoting policies that benefit these schools. The ad is part of a six-figure buy that will run on streaming services, connected TVs, and on online platforms.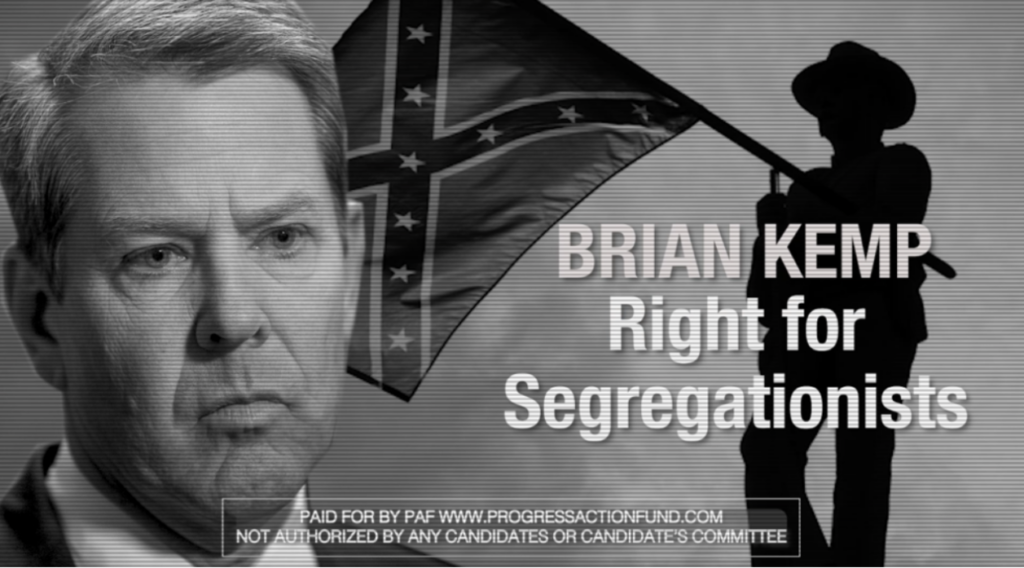 "Brian Kemp will try to position himself as a 'moderate' for the general election, but he's following in the footsteps of southern governors like George Wallace," said Joe Jacobson, Founder & Executive Director of Progress Action Fund.
"Kemp's agenda ignores the will of Georgia voters, who want strong public schools, and favors the rich, segregationists who bankroll his campaign."
Segregation Academies were founded after Brown v. Board of Education so wealthy, Caucasian parents would not have to send their children to desegregated public schools. Segregation academies are still highly segregated, as while Black students compose 41% of the public school district population where the segregation academies tied to Kemp are located, the academies are only 4% Black on average. Kemp also attended a segregation academy, Athens Academy, and has taken $370,000 from trustees and founders of the school. Athens Academy, where Kemp met his wife and sends his children to school, has a 5% Black population, compared to 48.5% Black in the surrounding public school district.
Kemp's campaigns have also received $157,000 from the founders of Lake Oconee Academy (LOA), a nationally infamous segregated charter school. The school was created so those who bought property from the founders' luxury development company, Reynolds Plantation, would have their own school. The school board, which is backed by the Reynolds family, has closed down two of the five majority Black public schools in LOA's district and has issued $31 million in local bonds so LOA could take more taxpayer dollars. LOA's black population is 11%, while the black population in the surrounding public school district is 68%.
When running for governor in 2018, Kemp promised to double a private school tax loophole from $100 million to $200 million. He has partially fulfilled that promise by increasing the credit pool to $120 million. This loophole allows individuals to receive 100% of their donation back as a tax credit on their state tax returns, and to deduct their donation from their income on their federal tax returns. This enables the richest Georgians to actually make money and receive a payoff on their contributions to private schools, such as segregation academies. Kemp's alma mater Athens Academy, for example, has received $4.5 million since 2009 thanks to the loophole. The policy is so extreme that Lieutenant Governor Casey Cagle, who lost to Kemp in the 2018 GOP primary, labeled it as bad public policy "a thousand different ways." Kemp also supported the nearly passed SB 173 in 2019, which would have taken hundreds of millions of taxpayer dollars away from public schools, and used those dollars to send students to private schools.
Progress Action Fund has also launched www.wrong4georgia.com, where voters can learn more about Kemp's ties to segregation academies and his segregationist policy agenda
###
Progress Action Fund (PAF) is a Democratic Super PAC specializing in hard-hitting accountability ads against Republicans. In 2020, PAF's viral ad exposed Kelly Loeffler and David Perdue for investing in body bags. PAF ads have gained coverage this cycle from The Atlanta Journal-Constitution for highlighting Herschel Walker's history of domestic abuse and from Roll Call for attacking Ron Johnson. David Catanese of McClatchy DC and the Washingtonian called the 30-second hit against Walker "the most vicious ad I've witnessed this cycle."
Progress Action Fund releases damaging new ad "Brian Kemp: Right for Segregationists. Wrong for Georgia."